GreenEZ®
Regular price
$75.00
Sale price
$70.00
Unit price
per
Sale
Sold out
NO METHYLENE CHLORIDE OR NMP
NO NOXIOUS FUMES OR NASTY ODOR
ECO-FRIENDLY & BIODEGRADEABLE FORMULA
Formulated exclusively, our blend is committed to providing the safest and most effortless choice as an alternative to standard toxic compounds. Paired with our Finishing Cleaner for complete solution to cleaning up any and all residue.
Share
View full details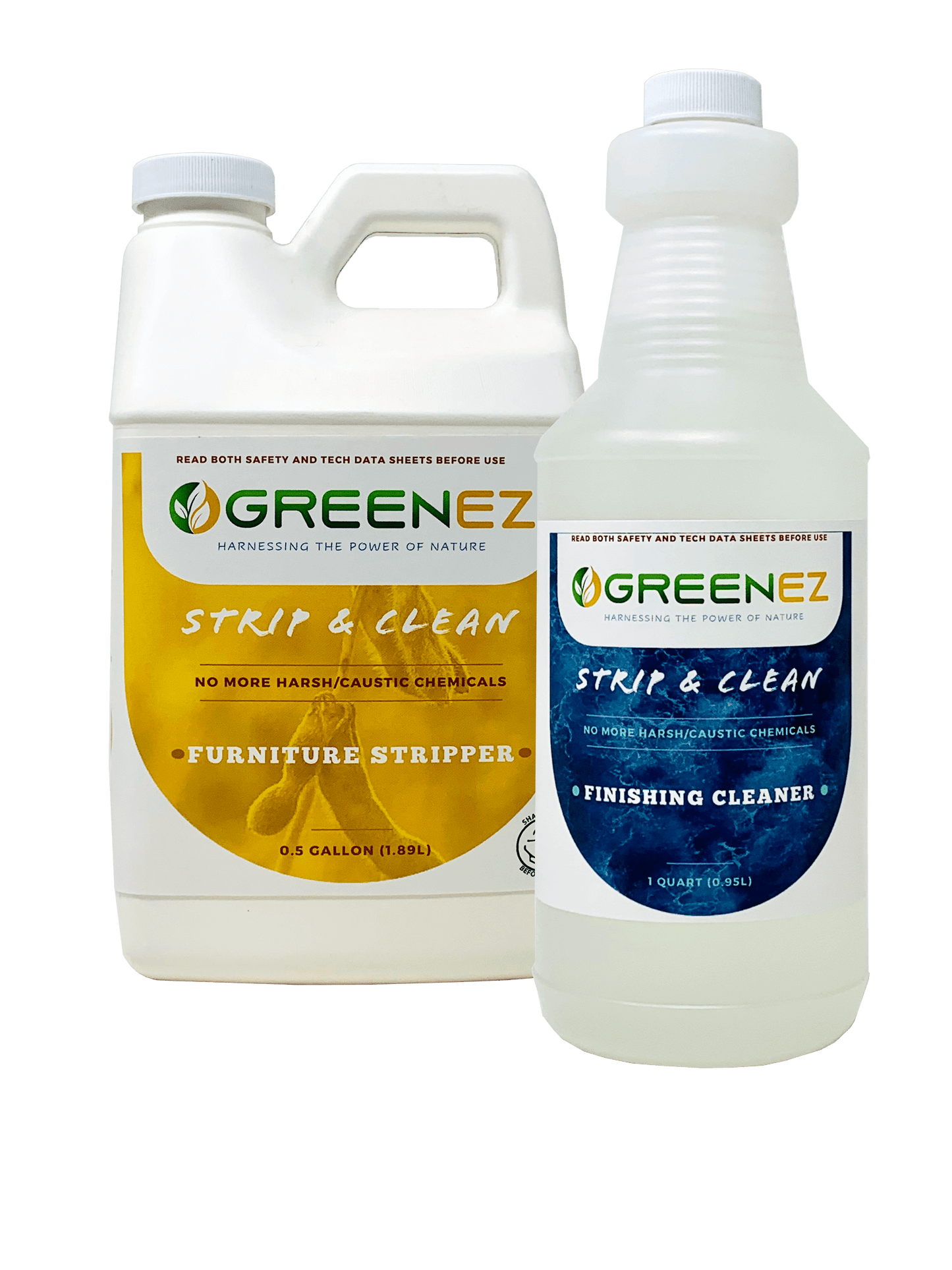 SOY BASED FORMULA

NO TOXIC FUMES OR HARSH ODOR

NO TOXIC CHEMICALS

REMOVES MULTIPLE LAYERS AT A TIME
Strip Wood To Absolute Perfection, With ZERO Toxic Fumes & NO Residue.
GreenEZ Strip & Clean Furniture Stripping Kit is the absolute easiest, most effective, non-toxic way to strip your furniture.
Our proprietary formula aims to provide the safest and easiest alternative to traditional toxic compounds like acetone or methanol. 
FURNITURE STRIPPING KIT
Benefits

 Extremely Efficient 
No Harsh Smell or Toxic Fumes
 Does Not Damage Wood 
 Biodegradable Formula
 Easy to use
 Non-Carcinogenic
 No Methylene Chloride, NMP, or other toxic compounds
 Soy Based
Slow Dry Time
Thick Gel for Vertical Application
No Plastic Wrap Needed When Applying
Cleaner & Residue Remover Included
How To Use

Step 1. Shake Well

Step 2. Apply GreenEZ Furniture Stripper to your piece.

Step 3. After applying if needed, cover your piece, then wait 30-45 minutes to scrape.

Step 4. Begin the most satisfying process of completely removinga and stripping any paint, varnish, or other coatings.

Step 5. Use GreenEZ Finishing Cleaner wipe up and and all residue from stripping.
Details

PACKAGE CONTENTS:

1 - HALF GALLON OF GREENEZ FURNITURE STRIPPER

1 - QUART FINISHING CLEANER

For complete Application directions and Cautions on the use of Green EZ Furniture Stripper, please refer to the data sheets below before using the product:

The GreenEZ Furniture Stripper
THE SAFEST & EASIEST WAY TO STRIP COATINGS FROM WOOD
APPLY
Shake thuroughly & apply a thick even coat all over your future work of art.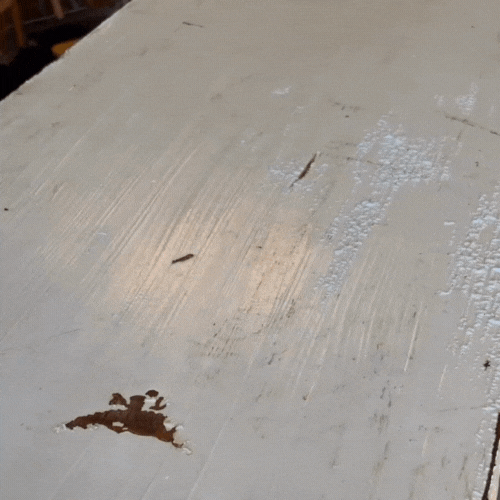 WAIT
After applying wait 30-45 minutes minimum before scraping. The longer you leave it the more layers get removed at once.
Our new & improved formula has a much slower dry time, making it no longer necessary to wrap in plastic!
SCRAPE
After waiting patiently, begin the satisfying process of scraping away any and all coatings.
The GreenEZ Finishing Cleaner
Remove left over coatings and stripper residue with ease.
SPRAY & CLEAN
Using GreenEZ Finishing Cleaner after stripping allows you to quickly and easily remove any and all residue, even left over paint!
Frequently Asked Questions
How do I use GreenEZ Furniture Stripper?

First, shake well, then apply the stripper generously to the surface you want to strip. Allow it to sit for 30-45 minutes, then use a scraper or brush to remove the softened coatings. Finally, spray our Finishing Cleaner, wipe the surface clean with a cloth or sponge.
Can I use this product on all types of wood?

GreenEZ Furniture Stripper is safe for use on almost all types of wood, including oak, pine, maple, and more. However, it's always a good idea to test a small, inconspicuous area first to ensure compatibility.
How long does it take for GreenEZ Furniture Stripper to work?

The time it takes for the product to work varies depending on factors like the type of coatings or finish, thickness, and temperature. Generally, it takes about 15-45 minutes for most coatings to soften, but stubborn coatings like lead based paint or epoxy may require longer.
Is protective gear necessary when using GreenEZ Furniture Stripper?

While GreenEZ Furniture Stripper is non-toxic and much safer than many other stripping products, it's still a good idea to wear gloves and safety goggles to protect your skin and eyes during application and removal.
Can I use GreenEZ Furniture Stripper on vertical surfaces?

Yes! Our improved formula now allows for use on vertical surfaces without it dripping down unevenly.